Welcome, and thank you for visiting the Doorwarmers Hot Wheels Redlines marketplace.
At Doorwarmers, you can choose from a variety of Hot Wheels Redlines for sale, and find vintage Hot Wheels that will make a beautiful addition to your diecast car collection. Prices are as listed and do not include shipping.
Want pictures that feature these beautiful collectibles in greater detail?
We're happy to send them to you – send us a message.
See Something You Like?
Email us at Doorwarmers@gmail.com
To purchase an item: Most clients prefer to use PayPal. We also accept money orders. Your order will be shipped to you within 3 business days (usually less) of receiving payment. Shipping charges vary, depending on your location. We ship worldwide.
For PayPal: Email us with your paypal email address and we will send you an invoice through the PayPal system.
For money order: Email us and we will give you our mailing address to send payment.
Please check back frequently, as we add new items when we get them.

Hot Wheels Redline 1974 Flying Colors
Carabo
Color- Green
Made in Hong Kong
Condition: Near mint
$65

Hot Wheels Redline Flying Colors
Monte Carlo Stocker
Color- Yellow
Condition: Near mint
$45 ~SOLD~


1970 Hot Wheels Redline The Demon
Condition: Mint car on near mint card
Dark blue with white interior
$150.00
Inventory Reference: DWTDC125S140R

1970 Hot Wheels Redline Mantis
Condition: Mint car on near mint card. Blister is crack free and attached securely.
Red, made in Hong Kong
$120.00
Inventory Reference: SBRM85S1

Hot Wheels Redline Short Order
Condition: Near mint-mint car on cut card. Car is an unusual green and I believe it was light green that has toned to a darker green. Car is this color all over and is not splotchy. Blister is crack free, but has a small dent on the upper left side.
Displays beautifully
$85
Inventory Reference: DWSOC64S

1974 Hot Wheels Redline Funny Money
Condition: Near mint
Displays beautifully
$65
Inventory Reference: SBBFCC32S60R
1970 Hot Wheels Redline
Porsche 917
Condition: Light green, near mint car on cut card. Car has some tone, blister is crack free and attached securely all the way around. Made in US
$80.00 ~SOLD~
Inventory Reference SB917C65SF75A
1969 Hot Wheels Redline Fire Chief
Condition: Near mint bright red with no scratches or nicks.
Displays beautifully.
$65
Inventory Reference: SBBFCC49S60R
1976 Hot Wheels Redline Cool One
Condition: Near mint plum with no scratches or nicks.
Displays beautifully.
$35
Inventory Reference: SBBCOC4S40P
1970 Power Pad
Condition: Near mint yellow with no scratches or nicks.
Displays beautifully.
$70
Inventory Reference: SBBPPC49S60Y
1970 Power Pad
Condition: Near mint light green with no scratches or nicks, slight wheel chrome loss.
Displays beautifully.
$65
Inventory Reference: SBBPPC49S60G
1970 Power Pad
Condition: Near Mint rose with no scratches or nicks, slight wheel chrome loss.
Displays beautifully.
$60
Inventory Reference: SBBC49S60A

Hot Wheels Redline Indy Eagle
Color- Red
Condition: Near mint
$40
Inventory Reference: SBBOC1455S40

Hot Wheels Redline Indy Eagle
Color- Green
Condition: Near mint
$45
Inventory Reference: SBBOC1455S40
1971 Hot Wheels Redline
AMX/2
Condition: Beautiful magenta near mint car with toning. Cut card, blister is crack free and attached securely all the way around.
~SOLD~
Inventory Reference SBBOC420SF575A
Hot Wheels Redline Boss Hoss
Condition: Near Mint beautiful copper car. Card is not punched and in excellent condition. Blister is crack free and attached securely to card.
$700.00  ~SOLD~
Inventory Reference SBBOC5SF7

~VERY RARE Alternative Orange Color~
1974 Hot Wheels Flying Colors Redline
Sir Rodney Roadster
Condition: Beautiful mint car, unpunched card is near mint condition with very minor storage wear and blister is crack free.
$875
Inventory Reference SBBO800S850A
1971 Hot Wheels Redline The Hood
Color – Magenta
Condition: Super nice car that has an unusual swirling tone over entire car. This car displays beautifully. Made in US
$70.00
Inventory Reference: SBHOC5S7
Hot Wheels Ice-T
Color – Yellow enamel.
Condition: Beautiful car in near mint condition. You would never need to upgrade this car.
$65.00
Inventory Reference:SBBTOC65S45
Hot Wheels Redline Lola GT70
Color – Red
Condition: Excellent condition with some toning, but displays very well.
$45.00
Inventory Reference:SBGTC65S45
Hot Wheels Redline Splittin Image
Color- Rose, white interior
Condition: US car that is near mint, displays beautifully.
$40
Inventory Reference: DWC3S35
1969 Hot Wheels Redline Rolls Royce Silver Shadow with black top
Color – Gray enamel/ black top
Condition: Near mint, excellent wheel chrome, has a couple paint bubbles on the hood from the factory, but displays beautifully. Made in Hong Kong
$85.00 SOLD
Inventory Reference: SBRRC5SF6

1968 Hot Wheels Redline Custom Firebird
Color – Purple with white interior.
Condition: Excellent, has some texturing and slight wheel chrome loss, but displays very well. Made in Hong Kong
$125 ~SOLD~
Inventory Reference: SBCFOC100SF1
Hot Wheels Redline Silhouette
Color- Purple
Condition: US car in near mint with only a couple flea bites, excellent wheel chrome, displays beautifully. Made in United States
$45 ~SOLD~
Inventory Reference: SBSILOC40SF40
Hot Wheels Redline Custom T-Bird
Color- Blue
Condition: Very nice US car with only a couple flea bites, displays beautifully.
$75.00
Inventory Reference: SBTBC25SF6
Hot Wheels Redline Python
Color- Red
Condition: Hong Kong car that is near mint, excellent wheel chrome, displays beautifully. Has what looks like a very tiny air bubble in front windshield. Made in Hong Kong
$35
Inventory Reference: SBPOC40SF35

Hot Wheels Redline Demon
Color- Green
Condition: Hong Kong car that is excellent condition and looks great in hand, excellent wheel chrome, displays beautifully. Made in Hong Kong
$30
Inventory Reference: SBPOC9SF30

Hot Wheels Redline Jet Threat
Color – Spectraflame Yellow
Condition: Very nice, excellent wheel chrome, nice decals, some tone, displays beautifully.
$70.00
Inventory Reference: SBBSCC50S6

~VERY RARE~
1973 Enamel Hot Wheels Redline
Ferrari 312P
Condition: Beautiful near mint car with some texture and couple flea bites. Card is in excellent condition with some storage wear and writing on right side above blister, blister is crack free.
$675
Inventory Reference SBBOC550SF575A
Hot Wheels redline Classic Cord
Color- Magenta
Condition: Near mint. No nicks or scratches, beautiful example of this casting.
$275
Inventory Reference: SBCCC160S24
Rare 1968 Custom Fleetside with Painted Bottom
Color- Spectrflame Orange
Condition: Excellent to Near Mint with some toning. Very nice Hong Kong car.
~SOLD~
Inventory Reference: SBBOC4832SF55

Very Hard To Find
Hot Wheels 1973 Redline Enamel Short Order
Condition: This stunning red enamel car is mint. No scratches or nicks anywhere, great wheel chrome that shines. This car is a Shell Promo car that came in a baggie and you will also get the baggie and header card with car. Both are in excellent condition.
$160
Inventory Reference SBBOC150SF170

1971 Sugar Caddy
Color – Spectraflame Purple
Condition: Near mint, excellent wheel chrome, good glass, displays beautifully.
$100 ~SOLD~
Inventory Reference: SBBSCOC35SF100
1969 Ford MK IV
Condition: Excellent dark blue paint with some wispy tone and a few micros. Excellent wheel chrome and redlines. Numbers are from US sticker sheet.
~SOLD~
Inventory Reference: SBBOC24SF30
1969 Chaparral (U.S.)
Color – White enamel.
Condition: Near Mint. All decals intact (sides and front). Wing intact.
~SOLD~
Inventory Reference: HWRL7Y3SF40R21T
1969 Custom AMX
Color – Orange with white interior.
Condition: Near Mint.
~ SOLD ~
Inventory Reference: HWRL893SF65J8K
1971 Classic Cord
Color – Green.
Condition: Near Mint. Beautiful car.
$225 ~SOLD~ 
Inventory Reference: HWRL0627SF172T4

1970 Ferrari 312P (US)
Color – Dark Green
Condition: Near mint, beautiful green paint. Decals intact. Hatch is loose on one side, but opens fine and will not come off.
$65
Inventory Reference: SBBC30S60R
1968 Hot Heap (Hong Kong)
Color – SPF Green with white interior.
Condition: Good.
$30
Inventory Reference: HWRLSBC1266SF2250L8
1970 The Demon
Color – SPF Red with white interior.
Condition: Excellent.
~SOLD~
Inventory Reference: HWRLSBC5571SF45V5T
Hot Wheels Heavyweights Fuel Tanker
Color – White enamel with white interior
Condition: Near mint condition.
$145 ~SOLD~
Inventory Reference: SBBTTOC125S140U

Hot Wheels Heavyweights Redline Fire Engine
Color – Red
Condition: Near mint. No nicks or scratches, minor wheel point chrome loss. Beautiful example of this casting.
$75
Inventory Reference: SBBFEOC60SF70U

Hot Wheels Heavyweights Moving Van
Color – Green, gray trailer with lines on trailer door.
Condition: Near mint. No nicks or scratches. Beautiful example of this casting.
$80
Inventory Reference: SBMVC40SF70G

Hot Wheels Heavyweights Moving Van
Color – Red, gray trailer with smooth trailer door.
Condition: Near mint. No nicks or scratches. Beautiful example of this casting.
$80
Inventory Reference: SBMVC40SF70R

Hot Wheels Heavyweights Waste Wagon
Color – Yellow
Condition: Near mint.
~SOLD~
Inventory Reference: SBBOC40SF60UG6
Hot Wheels Heavyweights Cement Mixer
Color – Purple with white interior. Beautiful example, with no nicks or scratches. Only issue is a small air bubble the size of a pin head in windshield.
Condition: Near mint condition.
~SOLD~
Inventory Reference: SBBOC40SF70UG6
Hot Wheels Redline Heavyweights 1970 Ambulance
Color – Aqua with white interior
Condition: Beautiful near mint example of this casting. Red cross emblems on sides and rear.
$65
Inventory Reference: SBHWA8JS65
Hot Wheels Heavyweights 1970 Ambulance
Color – SPF Green with white interior
Condition: Excellent condition. Limited toning. Dull base. Red cross emblems on sides and rear.
$45
Inventory Reference: HWRL8JSF37UG6
Hot Wheels Heavyweights Dump Truck
Color – SPF Green with dark interior
Condition: Near mint, no scratches or cracks in glass. Displays beautifully
~SOLD~
Inventory Reference: SBBOC40SF50
Hot Wheels Heavyweights Snorkel
Color – SPF Green with white interior
Condition: Near mint with just a couple flea bites, no scratches or cracks in glass. Displays beautifully
~SOLD~
Inventory Reference: SBBOC40SF90
Hot Wheels Heavyweights Racer Rig
Color -Red with dark interior
Condition: Excellent, no scratches or cracks in glass, cab does not have any nicks or scratches. Trailer has some tarnish and slight wear to decals. Displays beautifully
$90
Inventory Reference: SBBOC40SF85
1969 Indy Eagle
Color – Aqua with Rare Black Painted Base Variation
Condition: Very Good condition. Toning and some texturing noted. Darkened areas on nose. Displays very nicely.
~SOLD~
Inventory Reference: HWRLB5SF36XLF9
Tri-Baby
Color- Light Green
Condition: Excellent to near mint. Great wheel chrome, no nicks or scratches, but has some texturing. Displays beautifully.
$35
Inventory Reference: SBB20SF30X
1971 Redline Crew Car
Color – White Enamel
Condition: Near mint condition with just a few micros. Excellent wheel chrome, decals and base.
~SOLD~
Inventory Reference: SBBOC40SF85

1970 Sizzlers Firebird Trans Am
Color – Green
Condition: Good. Some wheel chrome loss. Limited paint loss on front fenders. Number decals faded. Minimal storage wear to packaging.
$14.95 ~SOLD~
Inventory Reference: HWRL93SF15X64

1970 Whip Creamer (US Version)
Color – Light Green
Condition: Excellent. Some dulling of base.
~SOLD~

Hot Wheels Redline T-4-2
Color – Light Green
Condition: Excellent
$40
Inventory Reference: SBB49SF45

1968 Beatnik Bandit
Color – SPFL Red
Condition: Excellent to Near Mint. Some toning noted.
$35
Inventory Reference: HWRL49SF25X02

1970 Red Baron
Color: Red
Condition: Near mint, no nicks or scratches.
$40 SOLD
Inventory Reference: DWR20S30X

1970 Paddy Wagon
Condition: Near mint, very nice car.
$30
Inventory Reference: DWR20S30X

1971 Rocket Bye Baby
Condition: Excellent. Tarnish noted on rocket; reportedly typical for this model. Isolated texturing on rear.
$50
Inventory Reference: HWRL01SF46XPK

1969 Lotus Turbine
Color – SPFL Dark Green
Condition: Excellent-near mint. Some toning noted.
$35
Inventory Reference: SBBOC48SF35S

1969 Lotus Turbine
Color – SPFL Purple
Condition: Excellent. Some toning noted.
$45

1969 Turbofire
Color – SPFL Antifreeze/Lime
Condition: Excellent. Shiny paint. Wheels show some chrome loss.
$40
Inventory Reference: HWRL39SF25X9N

1969 Mercedes-Benz 280SL
Color – Purple
Condition: Near Mint.
~SOLD~
Inventory Reference: HWRL91SF40X91

1970 Swingin Wing (US)
Color – Magenta
Condition: Near Mint.
$45
Inventory Reference: HWRLSW29S45X

1971 Mutt Mobile
Color – Aqua
Condition: Near Mint. Cage intact, dogs in the back.
~SOLD~
Inventory Reference: HWRLYSF30X7H

1970 Nitty Gritty Kitty
Color – Aqua
Condition: Excellent to Near Mint
~ SOLD ~
Inventory Reference: HWRLSF85X33

1971 What- 4
Color – Purple
Condition: Near Mint
~SOLD~

1971 Bye Focal
Color – Magenta
Condition: Near Mint
~SOLD~ (and track-tested by its new owner 🙂 )

1969 Custom Continental Mark III
Color: Blue
Condition: Mint car in blister pack. Pack in excellent to near mint condition; minimal storage wear.
~SOLD~

1969 Police Cruiser
Condition: Near mint
Translucent red light and cruiser base variation. Great-looking car.
~SOLD~
Hot Wheels 1969 Redline Maserati Mistral
Color – Red
Condition: Excellent
~SOLD~
Hot Wheels 1968 Custom Corvette
Color – Orange
Condition: Near Mint
~ SOLD ~
Inventory Reference: HWRLSF90J56
1969 Classic '36 Ford Coupe
Color: Orange
Condition: Excellent. Has light tone on hood and rumble seat, wheel point chrome loss and a couple slight scratch marks on black area of roof. With that being said, this is a very nice car and displays beautifully.
$65 ~SOLD~
Inventory Reference:SBBOC3988SF60X
Hot Wheels 1971 Olds 442 – Blue
Condition: Excellent with some toning. Decals are reproduction and can easily be removed, but displays beautifully with decals in place.
~SOLD~
Hot Wheels Redline US 1970 Jack Rabbit Special
Color- White, white interior.
Condition- Near mint, some slight wheel chrome loss and light tarnish on base. Beautiful car.
~SOLD~
Inventory Reference JRSBB27.5SF4
Hot Wheels Redline Custom Eldorado
Condition: Excellent-Near Mint red with white interior. Couple micros and some tarnish on base. Displays beautifully! Made in United States
$80.00 SOLD
Inventory Reference DWOC45SF65
Hot Wheels Redline 1971 Hairy Hauler
Color – Magenta
Condition: Near Mint
~ SOLD ~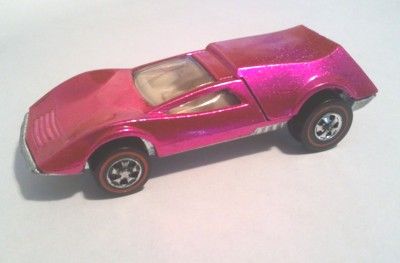 Hot Wheels Redline Hot Pink US Tri-Baby
Condition: Excellent-Near Mint with a couple micros. Excellent wheel chrome, displays beautifully!
$85
Inventory Reference SBB75SF80

Hot Wheels Redline Club Boss Hoss Limited Edition
Condition: Mint
$19.50
Inventory Reference SBHC20S15
Hot Wheels Redline Classic '57 T-Bird
Condition: Near Mint Aqua, displays beautifully!
$50 ~SOLD~
Inventory Reference SBB45SF50
Vintage 1975 Redline Era Hot Wheels Tough Customer Tank
Condition: Excellent paint and graphics. Made in Hong Kong
$30
Inventory Reference SBB45SF35